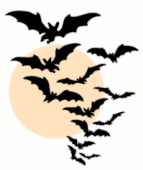 Like things that go bump in the night, some believe there are things that go BOO in the night. At Things That Go Boo, we see "scary" as the spice in our mundane lives!
At Things That Go Boo we love all things spooky. We examine and collect, then hopefully provide a variety of information on all subjects frightful, scary, creepy and horrific. Some people collect stamps, we collect the spooky and mysterious.
We also approach the subject of horror with a touch of humor. This site may not be for the serious, hard-core "dark" kind. It's a bit more whimsical. A bit more kitschy.
However, we are serious at providing a vast collection of information. Enjoy and have a horrifically good time!
Any questions? Comments? Suggestions? Please e-mail us them using the link below. We welcome your opinions and will get back to you.
If you need to contact Boo then please email contact@thingsthatgoboo.com or go to our contact page. We're open to suggestions and comments. We hope you enjoy the site and if you have any information that we can add we'd be glad to hear it.

We always welcome visitors and webmasters that link back to our website. We are also very happy to link reciprocally as well. Whether you own a website or a blog that is related to the love of horror, monsters, Halloween, or you just want your visitors to know about TTGB, please copy and paste the following information to your site.


<a href="http://www.thingsthatgoboo.com">Things That Go Boo</a> 
You can also use this banner:


If you are going to use this banner, please download it first, and then upload to your server.

Thank you!