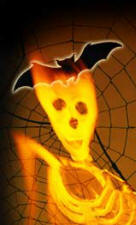 The following are books on the subject of Halloween. Since there are a multitude of books on this subject, we will miss some. We also try to to highlight the books that are well-reviewed and highly recommended. We will continue to search and update our database to help you on your journey for information.
You can either buy the books through Amazon, as we have provided the link, or just write down their name and find them at your local bookstore or used bookstore.

Witches, Pumpkins, and Grinning Ghosts:
The Story of the Halloween Symbols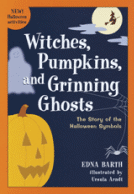 By Edna BarthBy Edna Barth
Witches, Pumpkins, and Grinning Ghosts: The Story of the Halloween Symbols remains one of the clearest, most accessible explanations of the history of Halloween around. Edna Barth--author of many nonfiction holiday books for children--sets her story 2,000 years in the past, when October 31 marked a joyous harvest festival for the Celts and, more frighteningly, when potentially evil spirits were unleashed from the Celtic underworld. Her fascinating account of the events that led up to modern-day Halloween explore the cringe-worthy history of witches; where the word jack-o'-lantern comes from (the story involves someone named Stingy Jack, diabolical deals, turnips, and glowing coals); the lore of bats, toads, and owls; why orange and black are the traditional Halloween colors; and how and where people celebrate Halloween today. Amazon.com

The Pagan Mysteries of Halloween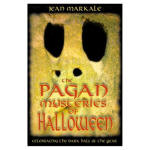 By Jean Markale
Celtic scholar Jean Markale explores "the shadowy zones" of All Hallows' Eve in The Pagan Mysteries of Halloween. Though the name comes from the Christians' All Saints' Eve, Halloween can be traced back thousands of years to Samhain--the beginning of the "dark half" of the Celtic yearly calendar. As a feasting and merrymaking festival, Samhain lasted about three days, and attendance was mandatory, according to Markale. It was also the time when fairy folk made themselves available to humans, and the borders between the worlds of the living and the dead were said to blur. Markale is a thorough historian, offering a plausible account of how Samhain evolved into the modern day celebration. For readers seeking general Halloween information, Markale may be too dry and detailed. But for those intrigued by pagan festivals and lifestyle, this could be as delectable and coveted as a bag of Halloween candy. - Gail Hudson Amazon.com

Halloween: An American Holiday, an American History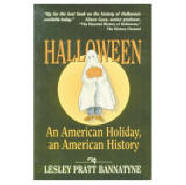 By Lesley Pratt Bannatyne
Halloween has evolved from the Celtic celebrations of 2,000 years ago to become today the fastest-growing holiday in the country. This, the only book to completely cover All Hallow's Eve, from its beginnings to the present, examines the ancient origins as well as its traditions and celebrations, from costuming to bobbing for apples. Jack-o-lanterns, black cats, and witches are explained. Ghosts, ghouls, and goblins lurk behind every page.
The book traces the contributions of America's immigrants to the holiday, documenting the beliefs each ethnic group has added to the mix. Related recipes, poems, songs, and photos perfectly complement the meticulously documented text. The result is the most educational and entertaining examination of Halloween, its myths, and its truths. Amazon.com

Halloween: Customs, Recipes & Spells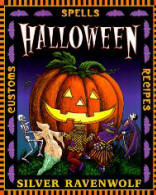 By Silver Ravenwolf
Written by a witch, this is a great book for people who want to learn about where Halloween came from and what it's about today. It contains information on the holiday including an overview of the history, customs, and traditions. It includes simple spells and rituals for fun, nothing too in depth. Mostly targeted towards modern day Halloween as opposed to Samhain. Lots of recipes for different holiday treats as well, such as Sugar Snakes in Graveyard Dust or Easy Enchanted Punch! A great reference book for a quick ritual look-up in time for Halloween. Amazon.com

Halloween and Other Festivals of Death and Life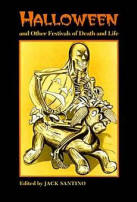 By Jack Santino
"Halloween is many things to many people; we do not celebrate the day in any one way." So Jack Santino writes in this first ever collection of essays dedicated to the study of Halloween and related festivals. Thirteen folklore and culture scholars examine the evolution of Halloween from its Celtic origins through its adaptation into modern culture. Essays on holiday customs describe harvest and autumnal rituals in Scotland, new Halloween traditions in response to legends about contaminated candy, the custom of "pranking" (more popular in some areas of the U.S. than trick-or-treating), England's Guy Fawkes Day and a parallel Bonfire Night in Newfoundland, and the development of American trick-or-treating in the years 1940-1990.
Also covered are the sociopolitical meanings of carnival celebrations and attempts to control them, the Tex-Mex tradition of el Dío de los Muertos (Day of the Dead), and community approaches to Halloween in such diverse locales as the Canadian prairie, rural Vermont, and Greenwich Village in New York City. A final section looks at the history of Halloween noisemakers and unusual imagery (including the decoration of graves) in two Southern settings. In several of the essays, the authors examine the ironic, even disturbing, implications of such a popular holiday being based on images of death, evil, and the grotesque. Amazon.com

Dressed for Thrills: 100 Years of Halloween Costumes and Masquerade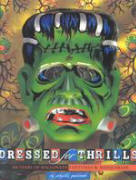 By Phyllis Galembo, Mark Alice Durant, Valerie Steel
A whimsical array of ghosts and goblins, spooks and skeletons, vamps and vampires parade through this unparalleled collection of more than 100 years of American Halloween attire. From Little Bo Peep with lamb in hand to beatniks and pirates, from monsters and witches to clowns and animals, this veritable "carnival" of costumes visually captures All Hallows' Eve like no other book before. Amazon.com

Halloween Merrymaking: An Illustrated Celebration Of Fun, Food, And Frolics From Halloweens Past
By Diane C. Arkins
A glimpse back at Halloween in America's history! Lots of nostalgic fun!
Halloween celebrations from the 1890s to the 1930s are considered the Golden Age of what is now the fastest-growing holiday in the country. This colorful book is a celebration in itself, a tribute to the mirthful and innocent revels of yesteryear presented with vintage photographs, decorative images, prose, and poetry. Recipes, games, costumes, party ideas, and decorations, along with excerpts from vintage periodicals, show the gaiety that epitomized historic Halloween celebrations with merry conviviality, vibrant imagery, and unbridled fun. Amazon.com