The tradition of dressing in costumes and masks on Halloween finds its roots in both European and Celtic history. On Halloween, when it was believed that ghosts came back to the earthly realm, people thought they would encounter the ghosts if they left their homes. Therefore, to avoid being seen by these ghosts, people would wear masks when they left their homes after dark so that the ghosts would mistake them for fellow spirits.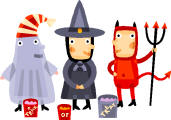 Nowadays the fear is not of running into visiting ghosts, but trying to find a cool costume in time for a party or trick-or-treating. And in these modern times, dressing in costume is one of the most popular Halloween customs for both children and adults. Traditional costumes usually included witches, ghosts, and vampires. However, costumes inspired by contemporary popular culture, such as politicians or movie characters, have become increasingly common in recent years.
Popular adult costumes have satirical or humorous overtones. It is not uncommon to see Clinton, Nixon, Reagan or Bush running around the streets on Halloween.
There are tons of websites offering clever and fast costume ideas for the last-minute Halloween shopper. How about dressing as a bag of jelly beans? You'll need a clear plastic bag. Step into it making holes for the legs and arms out the side. Fill the bag with different color balloons and use a flashy scarf to tie around the top of the bag. You may want to place a sign that says Jelly Beans 5˘ in front of the bag. For the clothing underneath just about any color leotard and leggings will work.
---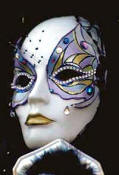 This year, forget the usual Jason hockey mask or the Scream ghost headgear, be extravagant and unique by wearing one of those ultra-elegant masquerade mask...they are VERY arty and beautiful. They are sometimes referred as Mardi Gras masks.
We have found a place in New Orleans that brings the creative art of mask-making to the public. You can visit their gorgeous website: http://www.themaskstore.com/
For cheaper masquerade masks, we found another site that offers Italian-style and Mardi Gras-style masks: http://www.costumeshopper.com/masquerade-masks.html
Some unusual and ornate masks: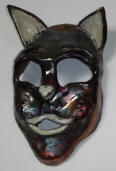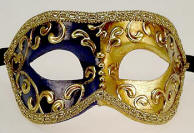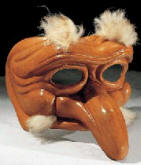 ---


Celebrate the Halloween season with your pooch or kitty - as long as they don't mind wearing a vampire cape or butterfly wings! If you see them making a fuss while wearing a tomato on their head, oh please just take it off!
Below are some ideas for some hilarious halloween costumes for your best friend (arf! arf!):




Some excellent places to find

costumes for your dog or cat:

http://www.halloweencostumes.com/pet-costumes.html
www.trixieandpeanut.com

Come as you like, but leave the fish alone!
---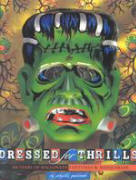 Dressed for Thrills: 100 Years of Halloween Costumes and Masquerade
By Phyllis Galembo, Mark Alice Durant, Valerie Steel
A whimsical array of ghosts and goblins, spooks and skeletons, vamps and vampires parade through this unparalleled collection of more than 100 years of American Halloween attire. From Little Bo Peep with lamb in hand to beatniks and pirates, from monsters and witches to clowns and animals, this veritable "carnival" of costumes visually captures All Hallows' Eve like no other book before. Amazon.com
---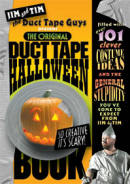 The Original Duct Tape Halloween Book
By Jim Berg and Tim Nyberg
Need a creative costume?? The Original Duct Tape Halloween Book is a four-color, fully illustrated holiday sourcebook offering more than 101 clever costume ideas, plus dozens of other creative and mischievous uses for duct tape. Halloween and duct tape-it's a marriage made in nutty heaven. Presenting the loopiest duct tape book of them all: a guide to using the universal adhesive for disguise, decoration, tricks, and treats on the holiday where everyone's encouraged to act a little crazy. Amazon.com
---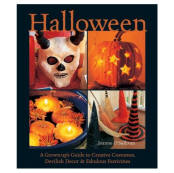 Halloween: A Grown-Up's Guide to Creative Costumes, Devilish Decor & Fabulous Festivities By Joanne O'Sullivan
Finally, here's a Halloween book that's definitely for adults. It's brimming with practical and inventive ideas for parties, decorations, and costumes, and with an amazingly atmospheric design that's a luscious treat for grown-up eyes. Take the dread out of a costume party with creative and playful ways to dress for success on All Hallow's Eve; there are even actual costume elements to use, from wings and tails to masks and hats. You'll find ways to repurpose items right out of your own closet or benefit from a quick trip to the thrift shop. Unique make-up tips for a ghoulishly great appearance will complete the effect. Amazon.com
---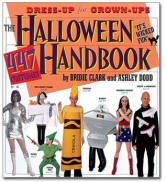 The Halloween Handbook: 447 Costumes
By Bridie Clark, Ashley Dodd and Janette Beckman
"The Halloween Handbook" is jam-packed with 447 costume ideas from the spooky to the hilarious. There are clever twists on old favorites as well as timesaving tips for getting dressed up at the last minute. "Drape a light green sheet around your body like a toga, make a construction paper crown, and wrap a flashlight in tin foil to become a real-life Statue of Liberty." Or, "Make four holes in a clear plastic garbage bag for your arms and legs, and fill the bag with inflated balloons. You are a bag of jellybeans." Amazon.com
---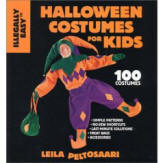 Illegally Easy Halloween Costumes for Kids
By Leila Peltosaari
Simple patterns and shortcuts for easy no-sew Halloween costumes for kids. The 100 different Halloween costume choices include bunnies, pirates, witches, octopus, skeleton, storybook characters, animals, clowns, swamp monster, etc. Each costume idea comes complete with matching treat bags and accessories. he simple, step-by-step instructions are enhanced with detailed full-color photos and illustrations. This book can help you whip up an original costume with very simple inexpensive ingredients or with whatever you have in the house even at the very last minute! Amazon.com
---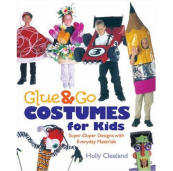 Glue & Go Costumes for Kids: Super-Duper Designs with Everyday Materials By Holly Cleeland
With readily available supplies and basic tools such as scissors and a glue gun, even the most sew-phobic parent or teacher can create unique, oversize, eye-catching children's costumes. You won't believe just how simple it is to transform a kid into a corn on the cob, cupcake, pencil, racecar, monster, basket of flowers, birdhouse, hot air balloon, plate of bacon and eggs, or create other unforgettable disguises. The 28 clever ideas are showcased in fabulous full-color photographs and are made with easy-to-find materials, including plastic cups and plates, cardboard boxes, fabric, and foam core.
Amazon.com