---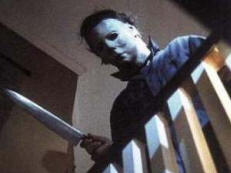 Michael Myers

The Shape – credited as The Shape in Halloween.

Killing teenagers on Halloween night - but any warm body, regardless of age will do.

Like a fart, he is the silent, but deadly kind of killer. He has a strong, resiliency and is not one to give up easily. Best summed up: Stoic and steady.

A carving knife. Note: not for pumpkin carving.


Michael Myers - as an adult - was first seen wearing a hospital gown when he escaped from the Smith's Grove Sanitarium. Resourceful madman that he is, he kills an auto mechanic, steals his clothes then dons his duds (left). He then robs the local hardware store for a Halloween mask to complete his look...oh and for some rope and other essentials for the evening massacre.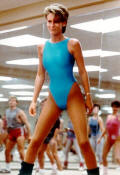 Laurie Strode, played by Jamie Lee Curtis (right) – unbeknownst sister in original movie, for some reason he really wants her dead. Must hate sisters or has a sibling grudge.
Jamie Lee was known as both the Scream Queen and The Body. Hey, The Shape vs. The Body. Now, that would have been a great movie title.
Other sightings of the Scream Queen: The Fog (1980 - Elizabeth Solley), Prom Night (1980 - Kim Hammond), Terror Train (1980 - Alana Maxwell), Roadgames (1981 - Pamela Rushworth), Halloween II (1981 - Laurie Strode), Halloween H20 (1998 - Laurie Strode).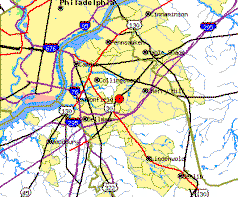 Haddonfield, Illinois. Michael's hometown and main killing headquarters. Michael also enjoyed a short bloody stint in Summer Glen, California when he followed Laurie Strode there in Halloween H20 (1998).
There is no real town of Haddonfield, Illinois - but there is a Haddonfield in New Jersey. Producer, Debra Hill's hometown. Perhaps inspired! And if so inclined, here's a handy map to it. And a link: Haddonfield, New Jersey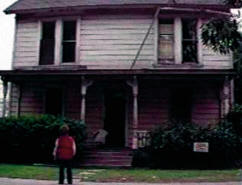 Original Address: 707 Meridian Ave. South Pasadena, California

A great link that will show you where the houses in Halloween are located: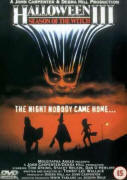 Halloween III: Season of the Witch. Out of the eight Halloween movies (soon to be nine), installment number three was an anomaly. It had nothing to do with the Michael Myers franchise. Based on its own merit, it was actually quite good.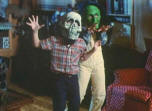 It involves a demented, "mad-scientist" CEO of the novelty company, Silver Shamrock, who plans a mass killing of children using Halloween masks (see two of them, left) as his lethal weapon.
---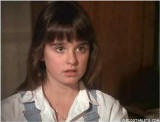 Actress Kyle Richards who played Lindsey Wallace is the aunt of Paris and Nicky Hilton. She is the younger sister of Kathy Hilton, thus her little nieces are Paris and Nicky.


Now if only Michael Myers can meet up with Paris...
---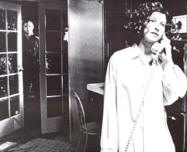 John Carpenter provides the voice of Annie's boyfriend, Paul, whom we hear on the phone talking to Annie.
Annie, played by Nancy Loomis, aka, Nancy Kyes appeared in Carpenter's The Fog. She is also married to Tommy Lee Wallace - who was quite busy himself. He was involved in the Halloween franchise as both production designer and editor. He actually both wrote and directed Halloween III, and was the voice of the announcer in the Silver Shamrock commercial. Nancy Kyes had a bit part in Halloween III. He also worked as both an editor and actor with Carpenter in The Fog, alongside his wife. What a husband/wife team!
---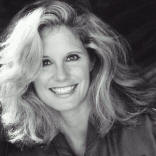 P.J. Soles says the word "totally" eleven times! Like totally.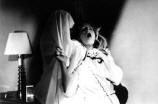 Other notable movies Soles appeared in: Carrie, Stripes, Private Benjamin, The Devil's Rejects.
Michael Myers breaks from his MO of killing with kitchen knives and used a more creative method: a telephone cord.
---
In the original Halloween, Michael Myers was played by TWO different actors, well actually five actors, but two main Michaels. While Michael was masked, he was played by Nick Castle, whereas during the split-second scene when Michael was unmasked by Laurie, he was played by Tony Moran, Happy Days' Erin Moran's brother.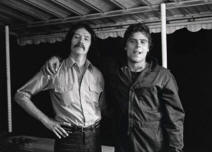 Nick Castle hamming it up with the mask Carpenter with Tony Moran (right)
---
The Michael Myers mask was actually a William Shatner 'Captain Kirk' mask painted white - its eyeholes were cut a little wider and the hair was redone.



Shatner with a few adjustments.......and voila! In the movies