Witches We Love in Movies, Television and Literature
---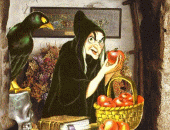 The Queen from Snow White
Snow White's stepmother, the Queen was beautiful but very proud and jealous of ghastly_tales_for_adults.htm more beautiful than herself. Unfortunately for Snow White, her beauty far exceeded that of her stepmother's. The crazy Queen turned herself into a haggard-looking old woman (or better known as the witch) and brought the poison apple for poor Snow White.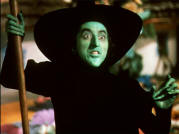 Wicked Witch of the West
Her scary green face has kept many a child up at night. This witch is bent on both revenge and power. She seeks revenge for her sister who was accidentally killed by Dorothy as well she is after the coveted magical pair of silver shoes (ruby slippers in the movie). Portrayed by Margaret Hamilton, she also played the evil Miss Gulch who tried to steal poor Toto from Dorothy. The Wicked Witch of the West is best known for the following line: "I'll get you, my pretty, and your little dog too!"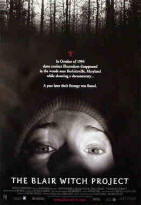 The Blair Witch
The Blair Witch is a fictional witch from the 1999 movie, The Blair Witch Project. Why this movie became so popular was the heavy marketing of it on the internet. The producing studio
used the Internet to suggest the story of the Blair Witch was true. Of course, it created a lot of curiosity - just what the studio wanted. It was a hit. The movie is about a documentary filmed by three film students who are systematically snatched by their witchy-subject, the Blair Witch. Throughout the movie, the witch leaves symbols of her presence such as artfully arranged twigs. This was one spooky movie with an ending scene sure not to be forgotten. Interestingly, it is thought that the fictional legend of the Blair Witch was influenced by the real legend of the Bell Witch.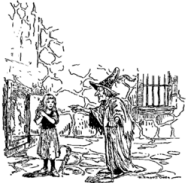 The Witch of Hansel & Gretel
A witch has got to eat during times of famine in Medieval Germany, right? Alas, she is vilified once again in this Germanic fairytale adapted by the Brothers Grimm. This resourceful and cunning witch constructs her house of yummy candy and ginderbread in order to lure children so as to fatten them and then eat them up. Pretty lurid plot, but it was believed that Hansel & Gretel was a cautionary fable to advocate NOT to abandon your children during tough times! Unfortunately, the witch, or wiccan-practicing folk in those days were smeared and further stereotyped. It would have been best to update Hansel & Gretel and substitute the Nazi's of World War II Germany as witch/villain.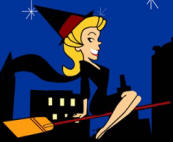 Samantha of Bewitched
The pretty, sweet and benign witch in this American sitcom, airing from 1964-1972 was the most successful of the supernatural sitcoms of its day. Bewitched was about a witch married to a non-witch and all the craziness that can rise from the situation. Samantha used her nose-twitching powers for good and tried to resist the urge to use it for personal benefit. She wanted to fit in. However, the best part of the show was when her witchcraft caused issues and the problems her wiccan-family inflicted on poor "Derwood."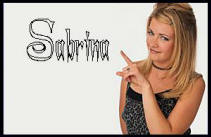 Sabrina, the Teenage Witch
Sabrina, the Teenage Witch was first a movie and then a sitcom based on the Archie comic book of the same title. It ran in totality from 1996-2003. Starring Melissa Joan Hart as Sabrina Spellman, she found out on her 16th birthday that she was half witch - half mortal. She is raised by her two witchy aunts and her black, talking cat - Salem. Like Samantha of Bewitched, Sabrina was a pretty and good witch. Sabrina's growing pains involved learning how to handle her powers responsibly.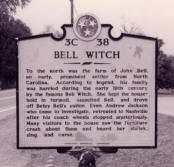 The Bell Witch
Is it a witch or a ghost...or both? The Legend of the Bell Witch, also known as the Bell Witch Haunting occurred in Tennessee from 1817-1821. Major paranormal activity intruded on the lives of the Bell family and some believe the patriarch, John Bell eventually died from it.
Word eventually leaked about the Bell's paranormal activity. It soon attracted and was even witnessed by many townsfolk, even the future President Andrew Jackson! He was later quoted as saying "I would rather fight the entire English Army then to have to face the Bell Witch again." The first haunting occurred in 1817 when John Bell encountered a strange animal in a cornfield on his property. Soon, the Bell's heard threatening voices, especially directed towards John Bell. The witch also focused on the daughter, Betsy who was violently assaulted by the witch.
So who was the Bell Witch? Some think it was the spirit of Kate Batts, a disgruntled neighbor of the Bell's. Apparently she sued John Bell over cheating her in a land deal. However, some believe that the Bell Witch was actually a poltergeist since their home was built over a Native American burial ground. The phenomena was turned into a movie called An American Haunting in 2006.
For extensive information about the Bell Witch: http://www.bellwitch.org/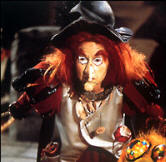 Witchiepoo
Witchiepoo is the resident baddie on H.R. Pufnstuf, a children's television program from the early 1970's. It was a Sid and Marti Krofft production who also created Land of the Lost, Wonderbug, Dr. Shrinker and Sigmund and the Sea Monster. H.R. Pufnstuf was about a boy named Jimmy who, with his talking flute Freddie was lured to Living Island - a magical island where everything on it was alive. Witchiepoo had her evil hand in Jimmy's voyage to the island by commanding a boat to tempt Jimmy aboard.
Witchiepoo was played by Billie Hayes. She rode her famous broomstick, Vroom Broom that had a steering wheel on it and had a penchant for Freddie the magical flute. However, H.R. Pufnstuf, the local dragon, helped protect Jimmy and his magical flute by letting them stay in his cave where it shielded them from Witchiepoo's magic.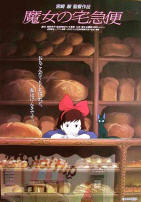 Kiki of Kiki's Delivery Service
Kiki's Delivery Service, aka Witch's Delivery Service is a 1989 Japanese animated movie produced, written and directed by the master, Hayao Miyazaki (Princess Mononoke and Spirited Away). The movie was based on Eiko Kadono's novel of the same name.

The story centers around 13 year-old witch-in-training Kiki, who lives in a small rural village where her mother is the resident herbalist. By tradition, it is time for Kiki to leave her home to spend a year alone in a new town to establish herself as a full witch. Kiki sets herself on her mother's broom with her closest companion, Jiji, a talkative black cat (right). Landing in a far-off city, she sets up a high-flying delivery service. Here begins a wonderful experience of independence and responsibility as she finds her place in the world.

Magical-girls
Magical-girls is a genre of Japanese anime and manga about young girls endowed with magical powers to protect the world from evil. In Japanese anime, the connotation of witch is like that of Bewitched - looks like a mortal and good - not an old and evil witch! The first popular anime witch was Sally, the Witch from 1966 and from there this popular genre has spawned almost 40 magical-girls! Sugar Sugar Rune is a story involving the characters Chocolat and Vanilla, young witches from the Magical World who compete in a contest to become Queen of the Magical World. Cardcaptor Sakura activates her magical powers by opening a book, The Clow to find Clow Cards - a set of 52 magical cards. Her magic grows as she battles and captures more cards.
| | |
| --- | --- |
| | |
| Sally, the Witch | Cardcaptor Sakura |