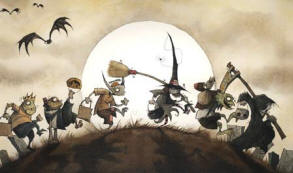 Trick-or-treating is the most widely recognized Halloween tradition. It is an activity in which children go from house to house asking for treats (i.e. candy) with the question, "Trick or treat?" Trick-or-treating is done with children donning Halloween costumes and it is one of the main traditions of Halloween. It has become socially required that if one lives in a neighborhood with children to purchase candy in preparation for trick-or-treaters.
Trick-or-treating declined in the late 1970s and early '80s with the tainted candy scare. Hospitals even got involved offering free x-ray scans of Halloween candy. This turned out to largely be an urban legend and trick-or-treating is making somewhat of a comeback.


The American tradition of "trick-or-treating" probably dates back to the early All Souls' Day parades in England. During the festivities, poor citizens would beg for food and families would give them pastries called "soul cakes" in return for their promise to pray for the family's dead relatives.
The distribution of soul cakes was encouraged by the church as a way to replace the ancient practice of leaving food and wine for the returning spirits on Halloween night. The practice, which was referred to as "going a-souling" was eventually taken up by children who would visit the houses in their neighborhood and be given ale, food, and money.
The tradition of dressing in costumes and masks on Halloween finds its roots in both European and Celtic history. On Halloween, when it was believed that ghosts came back to the earthly realm, people thought they would encounter the ghosts if they left their homes. Therefore, to avoid being seen by these ghosts, people would wear masks when they left their homes after dark so that the ghosts would mistake them for fellow spirits.

Kids' favorite candy stops are homes that offer "anything made with chocolate" (68 percent) followed by lollipops (9 percent), gummy candy (7 percent) and bubble gum or chewing gum (7 percent). (Reported by National Confectioners Association)
The National Confectioners Association reported in 2005 that 80 percent of adults in America planned to give out candy to trick-or-treaters, and that 93 percent of children planned to go trick-or-treating.

Holiday Hot Spots Offer Different Trick-or-Treat Twists

The National Confectioners Association's (NCA) 2006 National Trick-or-Treat Traditions Survey asked Americans to pick their favorite city for Halloween festivities. Each of the top five cities offer a different twist to the trick-or-treat tradition:
Sunshine Spooktacular. One-forth (25 percent) of Americans say trick-or-treating, without a jacket, in Orlando is their top pick.
Ghosts, Goblins and Witches. Nearly a quarter (23 percent) of trick-or-treaters chose Boston, a city known for Halloween lore and traditions.
Star-Studded Evening. Star-struck Americans chose Los Angeles as the "set" to don their costumes. (15 percent)
Shop-n-Spook. Collecting candy and shopping in Minneapolis at Mall of America tops the list for retail-minded revelers (13 percent).
Down-Home Halloween. Tulsa draws a handful of trick-or-treaters (5 percent) for its hometown Halloween appeal.

S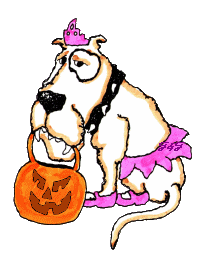 ources:
The History Channel http://www.history.com/minisite.do?content_type=mini_home&mini_id=1076
Spooky Halloween: Customs, Traditions and History. Hal Siemer (May 2006). Quest Magazine.
American Select Top "Trick-or-Treat Travel Destinations , National Confectioners Association, 2006